THE POWER OF THE HUM
THE POWER OF THE HUM
Humming is unifying. Each of us is an instrument. You can re-tune or re-set yourself at anytime with your hum. You can access your holistically toned internal Gong vibration by utilizing your natural hum.
Inhale deeply, Exhale: HUMMMMMMMMMM.
Do this Anywhere, at Anytime! Your hum will increase your nitric oxide (NO) 15 times! This regulates blood flow and allows for states of calm by tapping into the parasympathetic nervous system.
• Nitric oxide works in neurotransmition, immune response and vessel control.
(ref: Weinberg and Lundberg 2002 research attached).
Yogis knew this far before scientists. There is a humming breath called, "....breath". When paired with a Bhramara Mudra ( BEE Mudra) it is said to balance and strengthen the immune system and reduce environmental sensitivity and allergic reactions.
This combination of humming and mudras is also said to improve the health of the lungs, strengthen the heart and benefit the thymus gland.
Bhramara Mudra (Bee Mudra): Touch the tip of the index finger to the base of the thumb. Touch the thumb to the middle finger between the side of the fingernail and the first joint. Extend the ring and little fingers.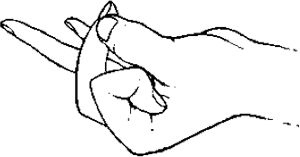 Trying humming for yourself and with your clients for 3-11 minutes.
LINKING TO THE INFINITE
In February 1976, Yogi Bhanjan gave a mediation on the breath using "ONG" on the exhales. This meditation of the breath may serve as a beautiful beginning to a Gong Bath or therapy session.
OVERTONING
Use the tongue as a mallet and the mouth as a Gong. The skull is an upside down singing bowl.
humming greatly increases nasal nitric oxide pdf.pdf
Complete and Continue