We welcome you to join Gong Master Don Conreaux in our mission to help educate those interested in gong training. Whether you're a beginner or long-time player of the gong, we are working on resources to help you. Please check back often for new learning opportunities.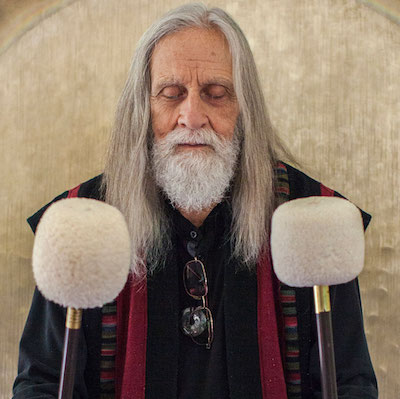 Meet Gong Master Don Conreaux
Don Conreaux formerly known as Baba Don and Guru Jagat. Master Don was one of the five original Kundalini Yoga Teachers designated by Yogi Bhajan in 1969. Don studied the gong writings of Dane Rudhyar. He established the Nanak Dwara Ashram Teacher Training 1970-1976 in Phoenix, Arizona. Don received his Kriya Yoga Initiation in Los Angeles in 1952 while studying the teachings of Paramahansa Yogananda at Self Realization Fellowship.
Don originated: The Gong Yoga of Holistic Resonance, the title of Gong Master, Gong Therapy, The Gong Bath, The Gong Puja, and Gong Master Training in the Way of the Gong.
Don has produced students of the gong in many countries of the world since and holds trainings internationally. He also conducts his Mysterious Tremendum Gong Consort and Sacred Tone Ensemble.
His Way of the Gong writings include: Gongs of Our Solar System, Magnum Opus of the Gong, Music of Wholeness, The Gong Essays, Sacred Geometry of Starhenge, The Chiometer, and The Kriya Kundalini Gong Yoga Manual.
Online Gong Master Training Courses
2022 CALENDAR
GLOBAL GONG TRAININGS
with Grand Gong Master Don Conreaux


WINTER 2022


JANUARY


NYC, N.Y.
JANUARY 13-17:  WEEKEND 1
ZOOM Online with LIVE IYI N.Y. (Integral Yoga Institute) Reverend Lakshmi\ https://iyiny.org
LOS ANGELES, CALIFORNIA
JAN 22-23 (SATURDAY-SUNDAY)
THE #9 SERIES with Don WEEKEND 1 
Yaelle E. Shaphir, L.Ac & Michael Enderle


JAN 29-30: (SATURDAY-SUNDAY) THE #9 SERIES with Don WEEKEND 2


FEBRUARY
FEBRUARY 17-21: WEEKEND 2




FEB 26-27 (SATURDAY-SUNDAY): THE #9 SERIES with Don WEEKEND 3


SPRING 2022


MARCH


MEXICO, QUERETARO
MARCH 2 - 11 2022
8days - Starhenge 2 days, 5 day Mexico GMT, Concert, Erika Lisci [email protected].com


*(OPEN FOR BOOKINGS FROM MARCH 19 - MAY 5 )


APRIL


JOSHUA TREE, CALIFORNIA
APRIL 22-MAY 1 2022 (10 DAY)
10 DAY GMT U.S. West Coast Don Conreaux, Yaelle E. Shaphir, L.Ac, Michael Enderle


MAY


MEXICO - GUADALAJARA
MAY 2-7 2022
4 Day GMT Mexico 2022: Gong Mastery Topic with Don Conreaux: Gong Master of Ceremonies Training, May 6 2022 - Wesak Day: Concert for Humanity
Carlos Valencia Centro Mexicano de Terapia del Sonido @carlosvalenciasori 


*(OPEN FOR BOOKINGS FROM MAY 20- JUNE 30)


SUMMER 2022


EUROPE 2022 - SUMMER GONG TOUR


JUNE


*(OPEN FOR BOOKINGS FROM MAY 20- JUNE 30)
JULY


NORWAY, HEIDEL
JULY 9-13 2022 (5 DAYS) 
Heidal, Heidalsvegen 2395, Norway - Flight: Oslo Gardemoen (3hr train/car to Heidel)
GONG ACADEMY: Tina Maria S. + Rinske [email protected]


SPAIN, MADRID
JULY 14-20 2022 (7 DAYS)
VIKRAMPAL, - Flight: MADRID


ITALY
JULY 21-24 2022 (4 DAYS)
Christof Bernhart




ENGLAND/U.K.
July 29 - Aug 7 2022
 HAWKWOOD COLLEGE: 10 DAY UK GMT with Gong Maestro Aidan McIntyre
*(OPEN BOOKINGS: AUG 8 - SEP 29 2022)


AUGUST
FALL 2022


SEPTEMBER
NEW YORK, MENLA
Sept 30 - Oct 3 2022
Lea Garnier - Executive Director Sage Academy of Sound T: 845 679 5650 


*(OPEN BOOKINGS: OCT 4 - OCT 27 2022)


OCTOBER
ARGENTINA
October 28-November 12 2022
GMT + Concert for Humanity
Julieta Ledesma Bhakti Gong Meditacion 0054 9 1133242657


*(OPEN BOOKINGS: NOV 13 - DEC 31 2022)


NOVEMBER 


DECEMBER
MEXICO
Dec 7 - 11 2022 (5 days) 
..."We got the whole world in our hands!" Shruti song to manifest for everyone as we more clearly focus on the coming 2022-2025....3 1/2 years and importantly on the May/June/July full moons of 2025 and the returning Maitreya Buddha Prophecy of the great 4th Ray opening much more and genetically within the rainbow family of all humans on Gaia.
These auspicious dates signify Humanity's open gateway to a more "functional harmony worldwide".
There is an arising flood of new thought behind the floodgates of avoidance holding back the synchronous worldwide outpouring of healing gong tones and the Inspired creative consciousness of a world peace and a "working together" in functional harmony.
Shruti says, "Every days a special day in "Gongerwood" for me when together gonging with you. DJC 
HOSTING DETAILS:
Dearest GONG CARETAKERS/ TEACHERS/STUDENTS/HOSTS - you are the heart of what we do…
AS REQUESTED…
DETAILS FOR HOST (BUDGETARY CONSIDERATIONS FOR HOSTING A DON CONREAUX TRAINING:
1. AIRFARE: Roundtrip airfare to/from for Don (Business/First) with 2-3 pieces of luggage, Yaelle (econ/prem. econ) with 1 piece of luggage
2. ADDITIONAL COSTS FOR DON & YAELLE: Room/Board, Transportation to/from airport
3. DON'S DAILY FEE
"
One of my favorite mentors, who continues to travel the globe teaching teachers to teach teachers 

"



Many folks like me were introduced to sacred tone improvisation with Don Conreaux and Mysterious Tremendum, synthesizing diverse elements in order to create function harmony.
- Gene Stull