We welcome you to join Gong Master Don Conreaux in our mission to help educate those interested in gong training. Whether you're a beginner or long-time player of the gong, we are working on resources to help you. Please check back often for new learning opportunities.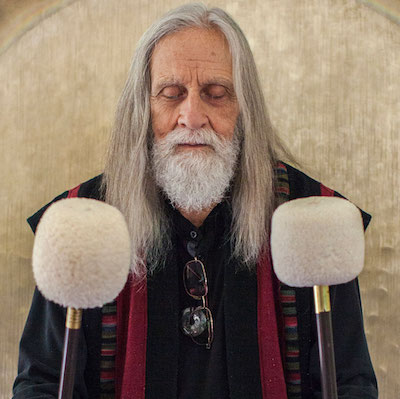 Meet Gong Master Don Conreaux
Don Conreaux formerly known as Baba Don and Guru Jagat. Master Don was one of the five original Kundalini Yoga Teachers designated by Yogi Bhajan in 1969. Don studied the gong writings of Dane Rudhyar. He established the Nanak Dwara Ashram Teacher Training 1970-1976 in Phoenix, Arizona. Don received his Kriya Yoga Initiation in Los Angeles in 1952 while studying the teachings of Paramahansa Yogananda at Self Realization Fellowship.
Don originated: The Gong Yoga of Holistic Resonance, the title of Gong Master, Gong Therapy, The Gong Bath, The Gong Puja, and Gong Master Training in the Way of the Gong.
Don has produced students of the gong in many countries of the world since and holds trainings internationally. He also conducts his Mysterious Tremendum Gong Consort and Sacred Tone Ensemble.
His Way of the Gong writings include: Gongs of Our Solar System, Magnum Opus of the Gong, Music of Wholeness, The Gong Essays, Sacred Geometry of Starhenge, The Chiometer, and The Kriya Kundalini Gong Yoga Manual.
Online Gong Master Training Courses
"
One of my favorite mentors, who continues to travel the globe teaching teachers to teach teachers 

"



Many folks like me were introduced to sacred tone improvisation with Don Conreaux and Mysterious Tremendum, synthesizing diverse elements in order to create function harmony.
- Gene Stull